"The Joy of… "has revealed titles to some of the most fundamental experiences to enhance the quality of human life.  The list includes anything from games to philosophies, from plays to causes and beyond. Of more serious consequence are the things that bring joy at a more personal level.  Kazoom Café offers experiences that can contribute to your joy and to the positive enhancement of your life experience.
How, and perhaps why, you may ask would such an observation ever be made.  Easy answer.  As people grow older their desire to create positive memories increases.  Kazoom offers what may be considered one of the best alternatives for doing this based upon the many of possibilities it presents.  From children's birthday parties to any other celebration the facility offers an environment that inspires play, imagination, and activity.  If your reason for being here includes family and friends, this is the perfect place to include them all.  Should your group, daycare or sports team want to meet outside the more traditional venue, Kazoom is the optimal option.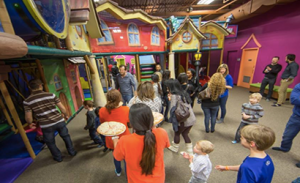 The friendly and accommodating staff provide yet another reason to consider family entertainment Center as an alternative. From the moment you walk in they prioritize your needs.  The various elements available at the facility, (for example, a separate play area for younger guests away from Mom and Dad) provide a safe and secure environment that ensure all have a wonderful time.  Optional free party rooms accommodate individual group needs including menu selection and party favors in the case of those celebrating a birthday.
If joy can be considered a fundamental of life experience, then Kazoom Café is well on the way to providing choices and options that will contribute heavily to that cause.