Kazoom Café is proud to offer its expansive facilities to the public for their pleasure and enjoyment.  You won't find a more accommodating spot anywhere to relax and, schedule birthday parties or group activities.  This is truly a center dedicated to families including children, Mom and Dad, aunts and uncles and for good measure grandparents as well.
Among the many different points of activity within the facility are an indoor play areas, private rooms for parties, and the Café which is a welcoming place for all.  The indoor playground provides many different apparatus for the younger generation to use as fuel for imaginative play and exercise.  If they aren't very careful they find themselves caught up in the enjoyment provided through the healthful play and exercise that this spot encourages. Imagine something fun and good for them at the same time!
Birthday parties and private functions can be accommodated in private rooms.  Birthday parties specifically can be completely hosted by the center.  Two packages are offered depending on what individual needs are; the Mega and the Supreme.  Either makes a perfect celebration for the family on a whole and expressly for the guest of the moment.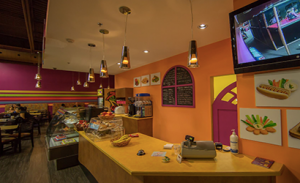 The café was created to be a place open to all.  It has become much more than a simple place to eat; more a place that is a warm and welcoming environment offering food choices for every appetite.  There you will find everything you can possibly want from salads and sandwiches, smoothies, coffee and tea to hot dogs and fries, juices, and milk for the younger ones.
Speaking of the younger ones, they can use the center in freedom. Security measures such as video surveillance, controlled access, and wrist band identification keep them safe while enjoying all there is enjoy.  For toddlers under three, there is a separate area to keep them even more safe allowing the whole family to fully commit to the enjoyment of the moment.