Family entertainment centers have taken on a fresh new look that is inviting not only for children, but for the rest of the family as well. In fact, many of the options and offerings are intended to meet the expectations of the whole family. For example, Kazoom Café offer group packages for schools and daycares (among other groups), a café that is open to not only the adults that come to the facility but also the children, and party packages.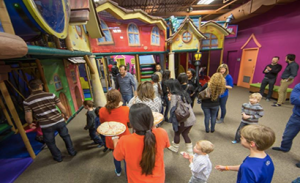 Have you ever met a child that does not enjoy a birthday party? Add to this the very special feeling of going to an entertainment center where the play options are virtually limitless, and you have a recipe for success and fun that is unparalleled. Beyond the play features of the center, there are different packages offered to optimize choice and practicality for the celebration. The Supreme and The Mega Birthday Party Packages include play area access and a private party room for the party goers, and also provide different options when it comes to food, birthday cake and other elements important to your celebration.
Know how the birthday girl or birthday boy may not want younger brother or sister around for the party? The entertainment center provides a separate toddler area that is totally secure:
• Full video surveillance
• Controlled access
• Wrist band identification
• Nut aware environment
With the care provided for some of the youngest family members in such a way the focus can be on the celebration on this very special day. Mom and Dad can relax and fully enjoy their time and the party knowing full well that younger siblings are safe, secure and happy enjoying their time away from family obligations.
Next time a Birthday pops up in your busy schedule you may want to consider the options and benefits a family entertainment center provides. You'll be glad you did!