Though at first glance it may not be all that evident, the use of the Kazoom Café family entertainment center provides an excellent opportunity to build your child's confidence, self-worth and ability to relate to the world.  Significantly, the things most important to your child are present whether he or she is engaged in play or celebrating any event irrespective of what that event might be.  The many positive aspects of both play (physical) and parties (social) have been well documented.  Less discussed are the emotional developmental factors that this family center promotes.
On that day, whatever the reason for a celebration, Kazoom provides a venue that ensures a little extra attention is given to that milestone or accomplishment.  In that recognition is the opportunity to reinforce a healthy dose of otherwise daily love by joining with your child to celebrate with him.  This little extra becomes even more important heading towards the teenage years where, for most, the value found in self-confidence, self-worth and a sense of belonging are more important than ever.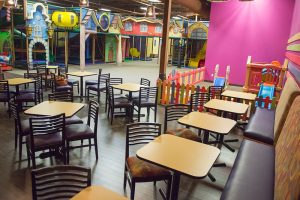 The Kazoom facility, by design, encourages group activities and games.  While the world in general may be a place of competition, criticism and negativity, regular visits here afford the opportunity to develop a sense of accomplishment as new levels of achievement are realized both in gamesmanship and physical development. Being able to undertake successive levels of activity while having Mom, Dad, family and friends there to recognize the achievement presents a unique opportunity to build not only self-worth but also reinforces relationships on many different levels.
Very often it isn't the wonderland vacations or mansions that remain ingrained in your child's memory.  More often the little things, the small building blocks accumulated and put together over the years are what make his/her world complete