Long ago my God Daughter came to me at the ripe old age of twelve asking if I would be, and I quote, "attending her graduation". Now foolish me, coming from a generation where the first real celebration of transitioning from one school to another, one lifestyle to the next, and one type of learning to something more sophisticated, came at High School graduation. I quite simply thought she was getting a little ahead of herself. Not the case. As was very patiently explained to me there would be a dance complete with gowns and dates, and that it would be a life altering moment if the right young boy did not ask her to meet him there for that very special first dance. I thought that privilege might have gone to her father.
Among my contemporaries I am likely considered to be one of the more conservative. Let me point out that it was never my intent to cheat children of an opportunity to celebrate significant life events or special achievements in their lives. Certainly transitioning from grade school to high school ranks right up there. My idea is simply that this celebration could be accomplished in less stressful, more appropriate way.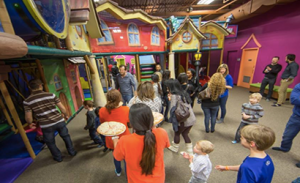 Entertainment centers offer one example of what I am talking about. At these facilities there is fun for the many while celebrating the success of the few. Classmates can gather with their families to enjoy countless healthy activities while avoiding the pressure of gowns and dates and while including friends, as well as Mom and Dad. There is fun food, finger food and heathy food all under one roof where everyone can be together without the pressure that no child should have to bear.
Above all things, or so I think, celebrating our children and their victories in life is the most important thing here. Making memories in a place where fun, food and family go together just seems right to me. Maybe all the years have granted me some wisdom after all!